Strategic Planning Process Launch – City of Waukesha (WI) – February 26-28
Facilitate Executive Leadership Development Sessions – City of Glendale (CA) – February 21 & 22
Facilitate Citizens Task Force – City of Pasadena (CA) -March 15
Facilitate Community Services Dept. Advance Session – City of Glendale (CA) – March 8
Facilitate Strategic Planning Advance Session – Town of Queen Creek (AZ) – February 24
Present "Six Ways to Engineer Employee Engagement" Training Workshop – Town of Westlake (TX) – March 7
"Patrick is the perfect person to infuse ideas, energy, and practical and applicable solutions into any organization that wants to innovate and stay ahead of local government trends." 
Matthew
About The Mejorando Group
Since 2002, the experts at the Mejorando Group have been helping government organizations achieve optimal performance.
We provide organizational effectiveness services, strategic planning services, leadership development programs and management skills training designed to achieve results.
We are one of the country's leading experts in designing and implementing Succession Planning Programs for government agencies. Check out our special section devoted entirely to governmental Succession Planning and Management and you will find articles, tools you can immediately use, description of our services, all kinds of stuff that is sure to help!
A solid record of success—and a growing list of clients—is proof that our dynamic, interactive, and holistic approach to improving organizational performance works.

"Mejorando" is a Spanish word meaning "getting better all the time." It reflects our approach to help disrupt the status quo of "we've always done it that way" and replace it with a continuous improvement approach of implementing and sustaining change designed to accelerate employee performance and enhance organizational effectiveness.
Our firm is certified as a Minority-Business Enterprise by the Minority Supplier Development Council.
GET
ACTIONABLE
& CUTTING EDGE TOOLS
SENT TO YOUR INBOX TODAY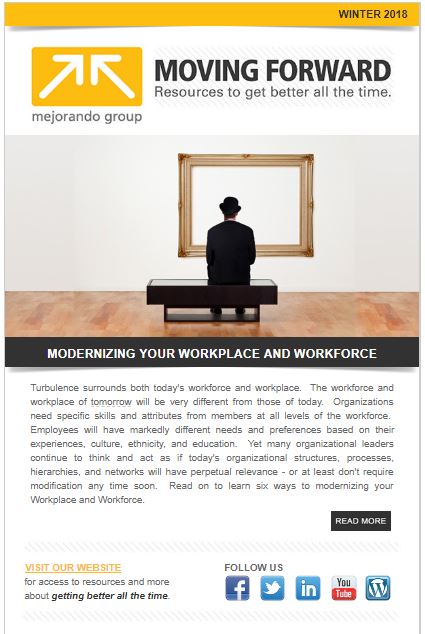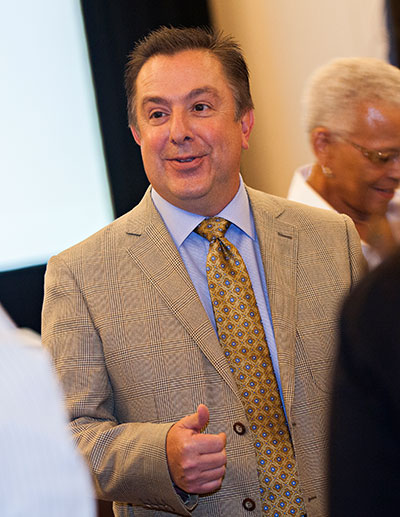 Our Approach
When leaders ask for our help, they usually don't use phrases like organization effectiveness strategies, change management, performance management processes, or meeting facilitation services.
We hear things like:
"What can we do to help our managers be better leaders?"
"We're stuck in the 'we've always done it that way' approach and need to start doing things differently."
"How can we get departments to cooperate so services aren't held back?"
"With more than a third of our workforce scheduled to retire in the next three years, we're not sure what to do."
"We're excited about the future, but concerned our approach isn't dynamic and forward-looking."
In our business, buzzwords alone don't cut it. As your partner, the Mejorando Group invests the time to understand your organization, develops breakthrough solutions, and facilitates their successful implementation to help your organization succeed in a dynamic and complex environment.
We feature a proven record of partnering with organizations through the myriad issues influencing individual performance, group/team interactions, and overall organizational effectiveness. Our "hands-on" approach and ability to collaborate with all levels—from field personnel to executive management—enable us to integrate strategy, structure, process, quality, and culture to the desired end: optimal performance.
We provide a range of services designed to accelerate your employees' and organization's performance.
"Patrick Ibarra brought a new level of strategic thinking to our annual strategic planning session. He stretched our minds, helped bridge the gap between council members and City staff, and made sure we ended up with a list of goals that could be realistically accomplished. Patrick really brought his knowledge of how cities work to our session, and opened the door for our continuous improvement. I'd recommend Patrick and his team to anyone who wants to bring new energy and productivity to their meetings."
Tim Reed
"I'm fairly new at managing staff, and was somewhat intimidated by my colleagues who had more experience. Patrick Ibarra's Leadership Academy helped me identify my strengths and areas for improvement, and gave me the time and place to practice important skills. I now feel extremely comfortable using the techniques Patrick taught me, and I look forward to getting better all the time!"
Sheila Allen
"Patrick really understands current workforce planning issues and what it takes to resolve them. What I find most interesting and helpful about working with Patrick is how he's able to relate his real-life work experience to our specific challenges. The Mejorando Group impressed us in the competitive selection process, and they came through in a timely manner with a systematic and comprehensive workforce planning program, and Patrick is continuing to consult with us as we put his recommendations into place."
Keith Hunke
As consultants to government organizations, the members of the Mejorando Group provide expertise in all aspects of performance improvement and organizational effectiveness services, including succession planning, leadership and management development and training, strategic planning, performance coaching and group/development/team building.